OMG, this is a funny ass picture!
By TB on Jan 30, 2008 | In MXS Crap
I mean, knowing that Packman served like 8 years in a state penitentiery doesn't the fascinated look on his face as he stares at Mancow's naked ass creep you out just a little? I am wondering, if he was really thinking about sticking that cigar up Mancow's ass. This made my day!!!!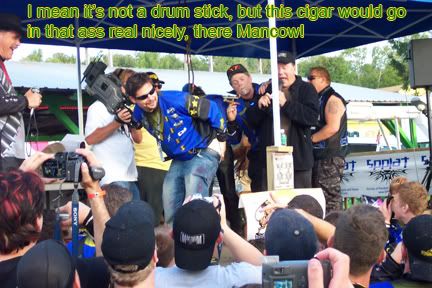 2 comments
How the fuck is that guy even allowed to be a consultant?
01/30/08 @ 23:02
Comment
from: BIG BAD WOLF [Visitor]
Kinda looks like he wanted to pull a Lewinski on him !!
02/01/08 @ 10:46
Comment feed for this post