Ben Toricelli: The Man Behind MPP Games
By TB on Jul 27, 2008 | In Scenario News
Here was the interview I did with Ben Toricelli about the time that MPP games started. This article actually pissed off some of the purist of scenario paintball at the time because of some of the changes that Ben made to the format. 6 years later, MPP games is still in business and most of those players have moved on. Who was right?
SN: Good Afternoon Ben, thanks for taking the time to talk with us about Millenium Paintball Productions and what you are doing for the sport of scenario paintball.
Ben: No problem Lawrence, always glad to help out.
SN: Well Ben, why don't we start with a little history of Millenium Paintball Productions (MPP)?
Ben: Millenium Paintball before all of it's reincarnations started as Tropical Paintball in 1988. Paul Devane and I started it and out together a very successful tournament series called "The Last Blast". It was actually 2 events that we held, once in the Spring and then the other in the Fall. Next to the Masters, Jim Lively's old tournament, it was one of the largest in the country. And we kept that until we joined up with Wayne Dollack in 1992, and then we named it Florida Paintball Productions. And when Paul left at the beginning of 2000, Wayne and I changed it to Millenium Paintball Productions.

SN: I see, and I've been told you've been in the industry for over 10 years?
Ben: A lot longer then that, actually.
SN: So what is your history in the sport? Who is Ben Toricelli? And do you still get to play?
Ben: Oh yes, I still get to play. Actually I played in a scenario game at Old River Paintball about a month ago. And my history is I started back in some of the earliest days of the sport, in September of 1994, if my memory serves me correctly.. And I had my first field in 1995 and I have been on several winning tournament teams. I have always loved playing the sport both scenario and tournament. I still get out there every weekend, I play with a team called the Predators, and while we are a bunch of old friends, we can still hold our on.

SN: Very Cool, Well what would you say that MPP offers that other promoters may not?
Ben: Well promotions are very similar, what we try to do is entertain. And I mean that to all the promoters from the top to the bottom. I've always been, from the very begining, very much for the players. And so MPP will be, as much as I can, worked from the input of the players. A lot of the things they don't like I wont incorporate into the game. No night vision for instance, and less behind the scenes action for points. You know the grunts work all weekend and the game is won or lost by some guy sitting in the parking lot. Nobody like that, so none of that will be in a MPP game. The players have a opportunity as well as the generals to control the game as much as they want to.

SN: Now everyone knows that you are part of the reason behind the huge prize package that Wayne had for his players. And I understand that you bring a very respectable prize package to your games now. How did you develop those close contacts with the industry and how did you get them to support scenario players?
Ben: Well all of the people involved with me have been there since the beginning, Bud Orr and Tom Kaye were some of my first clients and are still sponsors of my games. And the promises I made to them at the very beginning , the promises of exclusivtivety, the promises of friendship and the fact that I kept them no matter what is what I think made them supporters of not only my events but of the games themselves. I truly believe that old friends are the best friends and opportunists are a dime a dozen. And if you are honest with people and give them their money's worth. People like Scott of CP barrels and Joe West with J and J Barrels when they were just starting out I offered them an outlet to players exclusive of others. With the exception of the Grand Finale, I offered the sponsors for my events tremoundous exclusives. The Tippman Challenge and The Kingman Costume Contest, things like that. And as long as they were with us, we promoted them and their products.
SN: So how many are on your staff?
Ben: Staff? What's that? Right now it's me and my wife Bonnie. We make up the staff of MPP and so far that works well.
SN: So do you utilize role cards?
Ben: Sure we do, but we arent going to make a joke of it either. There are some promoters out there who duplicate the same 15 cards over and over again. We don't do that, our cards is basically a layout of the game, what they are trying to accomplish that sort of thing. More for the new players, experienced players don't read their cards anyway. Except for the specials and those are now picked by the generals. They pick who their medics are, the engineers, the demo players and the spies. The general has all that power and they seem to like it and the players like it.
SN: So then you do keep to the same style of format for scenario games? And the same style of characters, intel operatives and such?
Ben: Yes we do, but all of that is set by the general for his side. That way the flow of the game is back in the hands of the players.
SN: Now do you use a Ultimate Judge or a head ref? Or do you utilize the field staff only?
Ben: Well when I owned my own field I would have used that ref, but when you travel you really can't bring a level of expertise that is needed by someone who has never been to that field. So we send a list of qualifications to the field and they provide us with the head ref that we use. For example the last game we just finished up at Bear Claw Paintball, in Fayetteville, TN, Jason their ultimate ref did a superb job. I've never seen someone more dedicated, knew the field, worked in conjunction with me, and with the generals and with the game. So that told me to leave it up to the field to provide that level of talent. I'm not going to bring in 'ringers', cause usually they know less then nothing about the fields and the staff there.
SN: So what rule changes are the most important in your games? I know everyone does something a little different with their rules. Old River uses the General Scenario Rules of Play(GSRP), but they make addendums to them as needed for the game. What would a player from other venues need to know to step out on the field?
Ben: I'm not going to sneak people on the field to assasinate the general. Anybody that gets into that position is going to have to work to get it. And other then that, there really arent a huge difference between my rules and Viper's or Black Cat's. We are all trying to put the game back into the hands of the players, so that the game is won or lost on the field. For example, like I mentioned before, no night vision is allowed at my games. I'm not going to let a few people dominate a paintball field because they can afford more expensive equipment then the majority can. They are going to have play on a level playing field, and that is the point of our rules to try and make it as even for everybody as possible.

SN: Now I have been monitoring the boards, and played a lot of games on the East Coast and there seem to be some backlash building towards role players and the whole role playing portion of the game. I know that Wayne and Black Cat place a great deal of points in the ability of a sides role players, while MXS tries to balance both and Viper and Old River really strive to give the players that complete the missions the most bang for their buck. Where do you think MPP fits into that equation? Will you provide one or the other?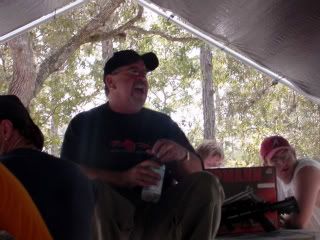 Ben: Well, we are going to do a little of both. Like I said before, I played at the Old River Scenario and their promoter did one hell of a job on the game. But the game is called a role playing scenario paintball game and you have to incorporate some of each into it for it to be successful. And you have to the 'personalities' in the game, however there is a difference in me placing that individual and the general doing so. The general is who is a acting functionary in the game and the role player has to work for them as well as with them. I am not going to build a cartel of role players as some other promoters have that go from event to event wielding an unfair advantage over others. If you come on the field, and you are lucky enough to play a role and you are good at it, then the general will want you in that role. Who am I to insert a person who is not a functionary of the game that will be percieved as doing my bidding during the game. Like I stated above, I am not going to bring in 'ringers' that will influence the games away from the players that are there to have fun and play paintball. It just isn't going to happen that way at our events.
SN: Now Ben, You just finished up your first game a couple of weeks ago. How do you think it went over with the players?
Ben: Well there was a lot of reviews and post game comments on several of the more well known message boards. They were all great, with some awesome reviews and comments. So far it seems to be a hit with everyone who attended. We had a great prize package, and the sportsmanship on the field and off was some of the best I have ever seen at a scenario game.. The field owners, went out of their way for not only me, but the players. They had dinner and a hot breakfast for them. The people who worked with us were great, the players were great. There was no one game issue or play issue. Is that not special or what?
SN: Yes it is! Scenario Players are the best type of paintball players because of their level of fair play and sportsmanship. Let's talk about another subject that people are wondering about. The split between you and Wayne. There has been gossip and dissension spread all over the internet about it. What are your thoughts on it?
Ben: I really don't think about it. Wayne and I worked together for over 10 years. When you work that long with someone you start to think of them a certain way. I thought of Wayne as family, and when the issues that came up couldn't be resolved, I agree it was best that we split. There were some personal issues, that I will not get into here but I don't wish any ill will towards Wayne. I have ideas of the way, scenario games should be played as does he. We will both carry on and take to the players the best possible events that we can.

SN: So where is MPP Games off to next?
Ben: Well I will be playing with Tom Kaye and Bud Orr at the William Shatner game in Chicago at Challenge Park. After that we are going to SC Village, in California for a scenario game. I am hoping to get Greg Sullivan of ACI as one of the generals. Then we'll be back at Bear Claw for Halloween, and the game will reflect that theme. Right now it is looking to be a super hero style game with super heroes and villains. We'll have lots of characters and players can choose the ones they want to be. Then we'll finish up with the Grand Finale - West in San Diego, California. Tom Kaye and Bud Orr will be generals for that event at a field in Escondido, and we will be looking to bring scenario games back to California with a bang.
SN: So what are you looking at next year for game ideas or themes?
Ben: Ever seen the 13th Warrior? Well we will be doing a game called 'Revenge of the Bendai" at a first time ever scenario field in Florida over on the Atlantic Coast side. Then in April or May, we'll be back at Bear Claw for a four way game. We'll have four generals and four armies fighting for control of the field and for the scenario. Everything that I have always wanted to see in a scenario that others said couldn't be done, we are going to do. Win or lose, it will be done because I think the players want it like that. We'll have prize packages at all these games of course and it will just get bigger and bigger, it was over $4000 at the first game we juts had. How many other scenario producers can get together a prize package that large for the players to have? Not many, I can tell you that.
SN: Well what are your expectations for MPP Games? Will you be finding a central place to set up shop or will you like MXS ,Black Cat and Wayne go to cris crossing the country bringing scenario games to players?
Ben: What I am going to do is work with friends. I am going to build relationships with people. I've noticed you keep mentioning Millennium, but there are so many more people involved then just me and Millennium. There are a lot of great producers out there and recreational fields. Now that is one of the things that I want to see is the players enjoying the events and getting the benefits of the contacts that I have made. I mean in my first tournaments in 89, 90, and 91 I was giving away 15 to 20 markers per event, that's nothing new to me. I mean Scott has been with me since the pump gun era, before they began making goggles. We are going to go to a lot of places, you have to remember, I'm still a player. So to answer your question, I'm going to go places where I have relationships with the people involved with them. We will build something special for all of the players out there.
SN: Well Ben, thanks for taking the time out and talking with us. I look foward to playing one of your events and I hope you have great luck in the scenario world.

Ben: Well thank you Lawrence, for the magazine that I've been reading and I hope you have a healthy future in the industry as well.
Editor: Scenario News is proud to be a sponsor of MPP Games. Be sure to check out his website at www.mppgames.com and keep checking in Scenario News for information about the games and the company that will be bringing some fresh faces into the nationwide scenario scene.
2 comments
Comment
from: Gator [Visitor]
That was interesting - I didn't know Ben used to run non-WWII games.
When did Ben decide to ONLY run WWII milsim games? I mean, damn, even if you really like milsim, there were other wars
It's so damn repetitive...
07/27/08 @ 11:35
Comment feed for this post